The Lithosphere Fluid Research Lab (LRG)
The lab has been established in 1998 at the Department of Petrology and Geochemistry, Eötvös University, Budapest (Hungary). The lab is maintained and supported by grants of the Hungarian Scientific Research Fund (OTKA), National Office for Research and Technology, Hungarian Academy of Sciences and Ministry of Education to Csaba Szabó, Kálmán Török, Zsuzsanna Nédli, Tibor Guzmics and Márta Berkesi.
Researchers and students use the lab to study different fluid systems in the lithosphere and understand interaction between fluid and silicate and/or sulfide and/or carbonatite melts, and solid phases under lower crustal and upper mantle conditions. We are also interested in environmental geochemical studies and environment-human interaction particularly in natural radioactivity. urban environment and CO2 capture and storage.
Current studies in the Lithosphere Fluid Research Lab include: 
Silicate melt and fluid inclusions in olivine, spinel, clinopyroxene and plagioclase phenocrysts from basalts (Carpathian-Pannonian Region, Minusa Depression, Albanian Ophiolite Belt and Korean Peninsula);
CO2-rich fluid inclusions in granulite xenoliths from the Carpathian-Pannonian Region and multiphase fluid inclusions from the Athabasca  granulite terrane;
CO2-rich fluid and silicate melt inclusions in the Carpathian-Pannonian Region, Cameroon Volcanic Line, Korean Peninsula, Rio Grande Rift and Mt. Quincan upper mantle xenoliths, and in the Cabo Ortegal peridotite massive;
Carbonate melt inclusions and genesis of carbonatites (Africa, Kola Peninsula, Brazil);
Sulfide inclusions in upper mantle xenoliths from the Carpathian-Pannonian Region;
Mantle deformation events recorded in upper mantle xenoliths from the Carpathian-Pannonian Region, Korean Peninsula and Cameroon Volcanic Line;
Radon measurements in natural environment (cave air, soil gas, water), and radon and thoron measurements on different types of building materials, including adobe;
Environmental geochemical and radiological investigation of coal slag and fly ash bearing building materials;
Urban geochemical studies on attic dust and urban soil from industrialized Hungarian cities;
Geogenic radon potential mapping and ambient gamma dose equivalent rate mapping in Hungary;
CO2 storage and capture in geological environment (Little Hungarian Plain);

The logo of LRG: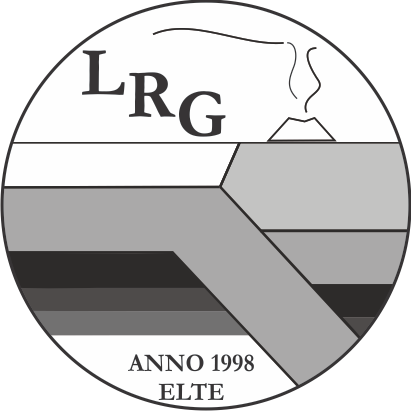 The logo was designed by Klára Kóthay and Tamás Tüske in 1998. 

The old homepage was constructed by Károly Hidas, István Kovács and Csaba Szabó in 2003.
The new homepage was constructed by Ábel Szabó in 2018.
Our website is maintained regularly by Csaba Szabó.